IGNOU MHD Admission 2024: Last Date, Fees, Eligibility, Duration – IGNOU MHD Online Admission will be open soon for January 2024 session. The students who want to take a fresh admission in the MHD first semester or year can apply online before the due date. IGNOU MHD Admission Last Date is expected to be 31st January 2024 for January 2024.
IGNOU University frequently announced admission for the IGNOU MHD program at every session. Candidates are advised to regularly check complete notifications about IGNOU MHD Admission for the latest updates. If candidates are eligible or comply with current eligibility criteria for MHD then they can proceed for admission from IGNOU.
IGNOU MHD Admission 2024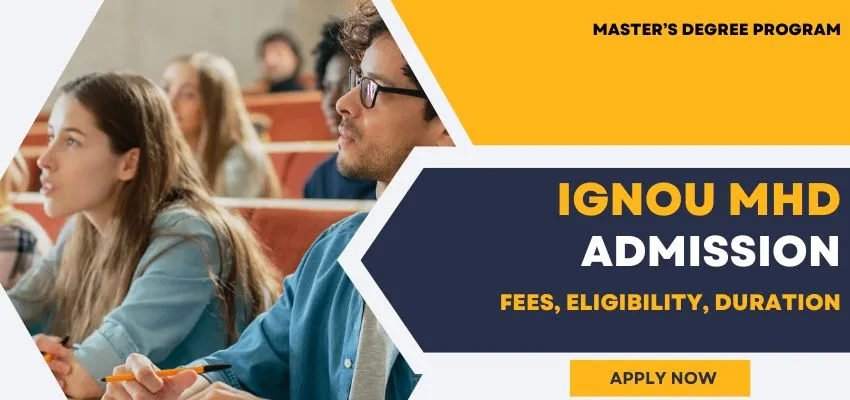 IGNOU invites online applications for the MHD Programme twice a year. IGNOU MHD (Master of Arts (Hindi)) is one of the academic programs offered by IGNOU University for the current session of admission. Interested candidates have the option to take fresh admission in MHD in any of the two available sessions that is July and January. Here, you can explore the complete procedure for MHD Admission to apply easily and to get admitted at IGNOU.
Also Read:
IGNOU MHD 2024 Highlights
| | |
| --- | --- |
| Program Code | MHD |
| Full Form of the Program | Master of Arts (Hindi) |
| Level of Study | IGNOU Master's Degree |
| Mode of Study | Open Distance Learning |
| Name of School | SOH |
| Minimum Duration | 2 Years |
| Maximum Duration | 4 Years |
| Available Medium | Hindi |
| Available Session | January & July |
IGNOU MHD Eligibility Criteria 2024
Completed Bachelor's Degree or Higher Degree from a recognized college or university.
IGNOU MHD Fees 2024
Full Program Fees: Rs 14,600
Per Year Fees: Rs 7,300
Registration Fees: Rs 300
IGNOU MHD Admission Last Date 2024
IGNOU MHD Admission for January 2024 session is expected to be started from 1st December 2023 and is expected to be closed on 31st January 2024. It is noted that the schedule of IGNOU MHD Admission will be not the same at every year so candidates should be connected with the given link to find the important dates like the start date and last date for MHD admission. The last dates will depend on the session you choose as the MHD is available in the January session as well as the July session. However, The procedure will be the same for both sessions no matter which session you are choosing for taking admission to the MHD program.
How To Apply for MHD in IGNOU?
IGNOU MHD Admission Process is available through online mode only so candidates have to submit only online applications to get admission to the MHD program.
The online method is an instant method where every process can be done online like filling out the MHD online application form, selection of courses, submission of documents, and online payment of program fees.
Therefore, the students no longer need to visit the IGNOU Regional Centre to follow the lengthy process from collecting to submission of the MHD application form which was a time-consuming task so the online method saves your time which you can utilize in preparation for the MHD exam.
Click Here for IGNOU MHD Online Application 2024
Is IGNOU MHD Offline Admission Available? As we said earlier, IGNOU only allows the online method to take admission to the IGNOU MHD program. However, the students who want to take offline admission should visit the nearest IGNOU Regional Centre if they allow them to take admission in MHD through offline mode.
IGNOU MHD Admission Status 2024
After successfully submission of the IGNOU MHD Admission Form including payment of the program fees, now it's time to check your MHD Admission status which can be checked online. The MHD applicants have to keep checking the status online to check whether their online application is approved or not.
Click Here for IGNOU MHD Admission Status 2024
IGNOU MHD Coordinator
If you have any questions or confusion regarding the MHD program then you can connect with the MHD program coordinator Prof. Smita Chaturvedi by schaturvedi@ignou.ac.in or 011-29572786.
If you have any questions or queries regarding IGNOU MHD Admission or its procedure then feel free to contact us by leaving your comment here.