IGNOU Syllabus 2023 – Find the current and latest syllabus structure for any of the academic programmes that ar offered by IGNOU in the current academic session. Here each of the courses is available to check its detailed syllabus structure. IGNOU currently offered 220+ courses to their students which is not available only for students from India but it is expanded to more than 20+ overseas countries. The syllabus is a brief description of the programme in which you can check which structure is used in the university. On the basis of structure, the student can understand everything about the programme before starting their study.
It is very necessary to check every course detail before starting the study of any particular programme. So we uploaded the syllabus structure of all available IGNOU Courses on our portal. Here students can get information about each course that is covered in their programme. It helps to learn, study materials, and assignment solutions so you can carry each material with the help of the syllabus.e
There are various faculties available in IGNOU like Commerce, Arts, Management, Engineering, Law, Medicine, Nursing, Public Health, Research and a lot more. IGNOU use the latest syllabus for all offered courses so that student will achieve their goals in their career and get a lot of opportunities in the future.
Also Read: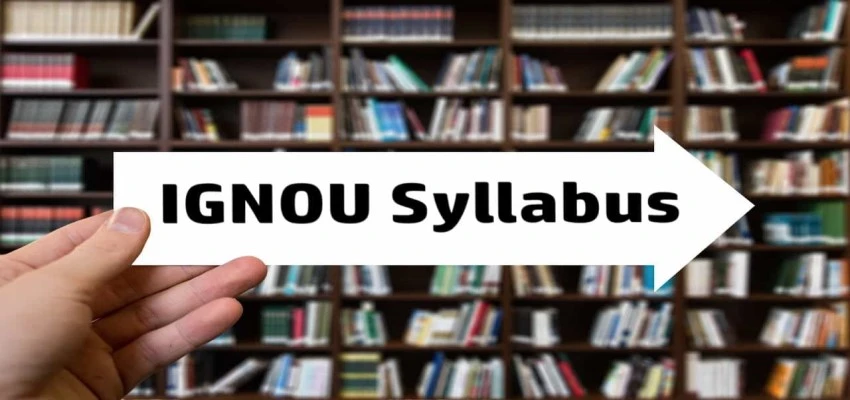 At IGNOU University it is easier to understand the syllabus structure of all its courses in the various disciplines. IGNOU revised their syllabus of various courses according to need and current timing as well as technologies. On this page, we have added a syllabus for all IGNOU Courses so candidates have to find their courses from the below list and get all details about those courses with the credit system.
List of Programmes with Syllabus Structure:
Master Degree Syllabus:
Bachelor's Degree Syllabus:
Post Graduate Diploma Syllabus:
Post Graduate Certificate Syllabus:
Diploma Syllabus:
Certificate Syllabus:
MPhil Syllabus:
PhD Syllabus:
Non-Credit Programme Syllabus:
Other Programme Syllabus:
Find your programme from the list and click on it to check the latest syllabus for your programme. All courses syllabus are now available with allotted credit and weighted so candidates can consider these details at the time of selection of courses. If the university will make any changes in its syllabus then we will update it with the latest so candidates will get the right and latest syllabus every time from us. It also helps students to get their study materials and assignment according to their syllabus so check properly every course in your programme.
Subscribe to our FREE e-Newsletter for Daily Updates.