IGNOU Re-Evaluation June 2023 – After appearing in the Term Examination June 2023, All of the candidates are waiting for their Exam Results in which they can see how much they got from their performance in the Exam. After the declaration of the results and getting the result on their hand, some of the students are disappointed with their marks. If candidates have confidence that they can get better marks rather than printed marks on the IGNOU portal then they can proceed for IGNOU Online revaluation.
You May Also Read:
IGNOU Revaluation Application Form June 2023
If students are unhappy or unsatisfied with their declared marks in IGNOU Result so they have the facility to re-check their answer script by the university. You just need to fill Online Application Form for Re-Evaluation of Answer Script with the required details and submit it to IGNOU.
Important Note – It is to inform all students that the Online Application for IGNOU Re-evaluation June 2020 is now officially started by the university. Candidates are now able to apply for IGNOU Revaluation for June 2023 session through online mode as the common result is now started to be released by the university. Candidates are requested to wait for the result first and if you are not satisfied with their result then go for an online revaluation.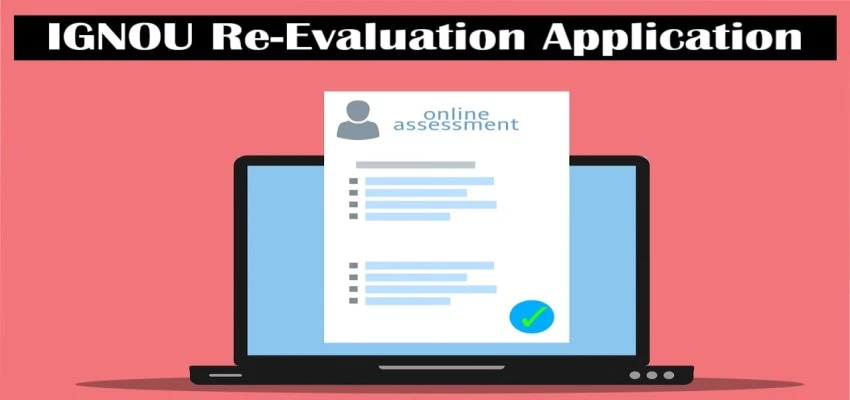 Photocopy of Answerscripts – If you want to get the photocopy of your answer scripts for the last session June 2023 then you can apply for the same from the following portal by paying the requisite fees for it. Candidates have the option to receive their photocopy of answer scripts through email or by post.
IGNOU Re-Evaluation Procedure June 2023
Recently, IGNOU University has announced that IGNOU will now accept only Online Applications for the Re-Evaluation of Answer Scripts so candidates are advised to submit an only online applications for revaluation of the result. No offline applications will be accepted by any of the centres of IGNOU University. If any student has submitted an offline application then the form will be returned back to the student.
First of all click on the given link to go to the main page of IGNOU Online Revaluation
Check the box called "Declaration" and click on the button called "I Agree and Proceed"
Now click on "TEE June 2023″ Exam Student"
Enter your 9 or 10 digit enrollment number, select your program code and choose the Revaluation & Copy of Answer Scripts
Click on login after entering all details
You can now able to apply for revaluation for your declared results so select subjects in which you want revaluation
Now Save and proceed to pay the required fees for revaluation
Click for IGNOU Re-Evaluation Application Form June 2023 (Started)
Note – IGNOU Offline revaluation is now shut down by the university completely so candidates must aware of it and follow the given online procedure to make your revaluation process easier and fast.
IGNOU Re-Evaluation Fees: Rs. 750 per subject (Revised)
IGNOU Photocopy of Answer Scripts: Rs. 100 per subject
IGNOU Revaluation Last Date: Within 30 Days after Declaration of your Result
IGNOU Photocopy of Answer Scripts Last Date: Within 45 Days after Declaration of Result
Last Date Notice – The last date for submission of IGNOU Revaluation Form for June 2023 session TEE is now released for those students whose result was declared in July & August 2023. You can check for more details by visiting the online application portal for IGNOU Revaluation.
Payment Methods:
Debit Card
Credit Card
Internet Banking
Read the Rules before Submitting the Online Application Form:
Candidates have to fill out that application through online mode and submit it within one month (40 days) after the official declaration of IGNOU Results.
After successful re-evaluation, higher marks will be taken into consideration for the original mark sheet and grade card.
After the Application of Re-Evaluation, new marks will be available on the IGNOU website after re-checking the script by the IGNOU centre.
Re-evaluation is available only for IGNOU TEE Exam but it is not permissible in Projects, practicals, Assignments, Lab courses, workshops, etc.
Send the application through online mode only because the offline mode is now closed by the university.
All Addresses of IGNOU Evaluation Centres:
| | |
| --- | --- |
| Evaluation Centre Address | Jurisdiction of Evaluation Centre |
| Regional Director, IGNOU Regional Evaluation Centre, 3rd Floor, Sanchi Complex, Shivaji Nagar, Bhopal-462016 Madhya Pradesh | All Examination Centres within Bhopal, Jabalpur, Raipur, Ranchi, Patna, Darbhanga, Bhagalpur, Jodhpur and Jaipur |
| Regional Director, IGNOU Regional Evaluation Centre, C/1, Institutional Area, Bhubaneswar-751013 Odisha | All Examination Centres within Bhubaneswar, Koraput, Kolkata, Deoghar, Siliguri, Raghunathganj, Vishakhapatnam, Vijayawada, Hyderabad |
| Dy. Registrar, IGNOU Regional Evaluation, Centre-Delhi, Block-5, IGNOU, Maidan Garhi, New Delhi-110068 Ph.- 011-29533565, 011-29571501 | All Examination Centres within Delhi-1, Delhi-2, Delhi-3, All Schools and Divisions, Centres, Units & Institutes at Headquarters, International Division and answer scripts received from other Evaluation Centres/sources, if any. |
| Deputy Registrar, IGNOU Regional Evaluation Centre, IGNOU Complex, Kaloor PO, Ernakulam Distt, Kochi-682017 Kerala Ph.- 0484-2337028, 2337038 | All Examination Centres within Kochi, Trivandrum, Vatakara, Chennai, Madurai, Banglore, Bijapur, Panaji, Port Blair, Mumbai, Pune, Nagpur, Rajkot, Ahmedabad |
| Dy. Registrar, IGNOU Regional Evaluation, Centre-Lucknow, IInd Floor, 5 C / INS-1, Sector-5, Vrindavan Yojana, Telibagh, Lucknow –226029 Ph.- 0522-2442825 | All Examination Centres within Lucknow, Varanasi, Aligarh, Dehradun, Noida, Karnal, Chandigarh, Khanna, Shimla, Jammu, Srinagar |
| In-Charge IGNOU   Regional   Evaluation   Centre-Shillong, IGNOU Regional Centre, NEHU Campus, Umshing, Mawkynroh, Shillong-793022 Meghalaya Ph.- 0364-2550130 | All Examination Centres within Shillong, Guwahati, Jorhat, Itanagar, Imphal, Agartala, Gangtok, Kohima, Aizwal |
The given address is just for information purposes so the student has no need to send any hard copy of the application to the above address for revaluation.
After submission of the application, wait for at least 30 days to get updated your result on the website after rechecking. All other programme candidates can check the above list and find their city from the city list and get the address of your city evaluation centre for answer scripts to send your application form to them.
Subscribe to our FREE e-Newsletter for Daily Updates.
FAQs – IGNOU Revaluation June 2023
What is Revaluation in IGNOU?
It is an option given to the students for the re-evaluation of IGNOU answer scripts after the declaration of the result.
Does Revaluation Increases the marks in IGNOU?
It all depends on your writing of the answer in the examination. If you attended the answer correctly then the chances of marks increasing are higher.
How can I check my IGNOU Revaluation Status?
Candidates will be able to check their IGNOU Revaluation Status by login in to the IGNOU Online Re-Evaluation portal by entering your enrolment number and program.