IGNOU Provisional Marksheet & Certificate – We would like to inform our students that IGNOU releasing the provisional mark sheet and certificate to all students after completing their particular year or semester for the admitted program. If candidates had completed any of the most recent term examinations then now time to receive IGNOU Marksheet and certificate from university head office.
Keep in mind that the process of IGNOU Marksheet is accomplished through offline mode and every student will be getting their documents from IGNOU Head Office, Delhi so there is no need to visit your regional centre too early to inquire about IGNOU Provisional Marksheet and Certificate.
How to get IGNOU Marksheet?
It is the common question that arises in the mind of every student that how to get IGNOU Marksheet so here is an answer to it. First of all, we want to confirm that there is no procedure that needs to be followed and no need to submit any application form to IGNOU to receive your marksheet. The procedure for IGNOU Provisional Marksheet and Certificate is fully automatic so you will get your documents through India Post to your registered address.
We also want to clarify that the certificate and marksheet may take up to 40 days to get delivered to the address of particular students. The time duration may vary for each student so if your friend got the documents and you haven't received it from IGNOU Head Office then you don't need to worry about it. You can keep in touch with your nearest post office and confirm that is it delivered to them or not.
IGNOU Marksheet Dispatch process is beginning only after the declaration of complete IGNOU Result for term end examination so if your complete result is updated at the IGNOU site then ready to receive your provisional from IGNOU.
Note: IGNOU University is not issuing IGNOU Marksheet through online mode so there is no question arises to Download IGNOU Marksheet Online. IGNOU Students will get the printed Marksheet from university for every year or semester.
IGNOU Marksheet Dispatch Status
Recently, IGNOU has started to provide a tracking facility to track provisional marksheet and certificate which helps a lot of students to check out their IGNOU Marksheet Status.
Click to Check IGNOU Marksheet Status
If you could not find your marksheet status from the given link then either your marksheet is yet to dispatched by the university or it may be available at your regional centre for ready to collect.
IGNOU Marksheet Format
Here we have uploaded an official format of IGNOU Marksheet, and you will get the mark sheet the same as given below.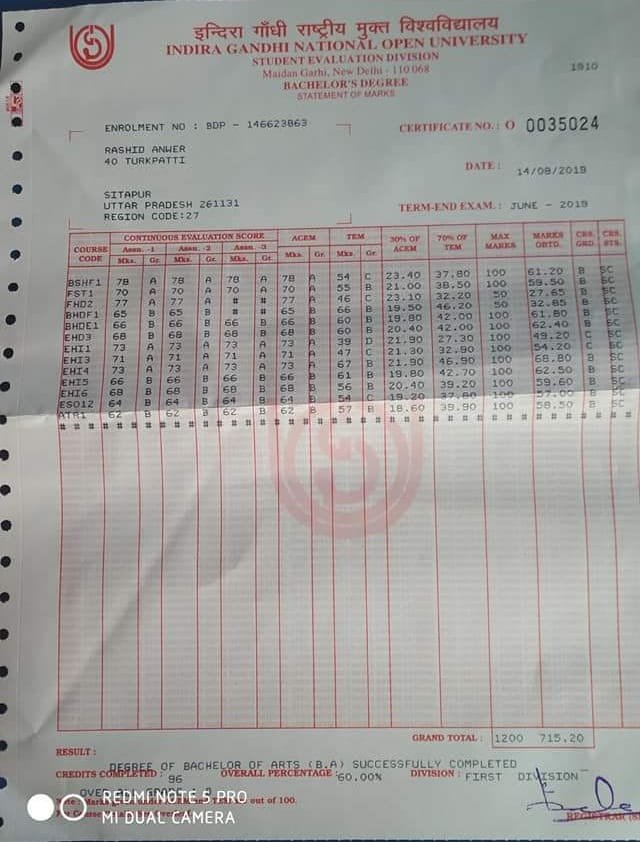 Things to Verify in the IGNOU Marksheet
Candidates have to confirm that the same marks are printed on the marksheet which was shown in the Result page at IGNOU site
Confirm that the Term end exam session is written correctly
Verify your Name, Course Code, Percentage and Grade printed on the Marksheet
If you find any errors in the marksheet indicated above then contact your regional centre as fast as possible to make a correction by submitting an application with relevant documents and fees.
Can I Collect IGNOU Marksheet Personally?
Yes, you can. If any candidates don't want to wait for marksheet to be delivered to their address then that person can personally collect the IGNOU Marksheet from IGNOU Head Office by visiting the concerned department at Maidan Garhi.
Took Longer Time to Deliver IGNOU Marksheet?
If IGNOU took a longer time to deliver your marksheet or certificate to your address then you can now raise a request or complaint at igram.ignou.ac.in or you can also contact the concerned authority by emailing at bdresult@ignou.ac.in or mdresult@ignou.ac.in.
If you have any other query or question related to IGNOU Marksheet than feel free to comment on this page to get the answer by our team.