IGNOU Exam Time Table December 2023 – Welcome to checkout IGNOU Exam Time Table for the current and upcoming examinations conducted by the university. Here you will get Time Table for all IGNOU academic programs. You can get every exam time table declared by IGNOU University in just one place. After submission of the IGNOU Exam Form, all candidates are eagerly waiting for the exam time table for their next exam.
IGNOU is frequently conducting the Term End Theory Examination, Practical Examination, and Entrance examination. The schedule and Time Table of each examination are declared within an appropriate time duration so that candidates can prepare well for their exam. IGNOU Students are requested to check their TEE Examination schedule just after filling out their Exam Form online or offline to get updated with the latest schedule.
Important Links:
Live Updates of IGNOU Exam Time Table Dec 2023
We want to inform all candidates who want to appear in the term end exam December 2023 session that the university has started to update the final exam time table for its upcoming session exam Dec 2023. The term-end examination for the session Dec 2023 examination is scheduled to be held in the month of December to January 2024 so the candidate must be prepared with the exact time table that has been started to get released by the university from 25th July 2023.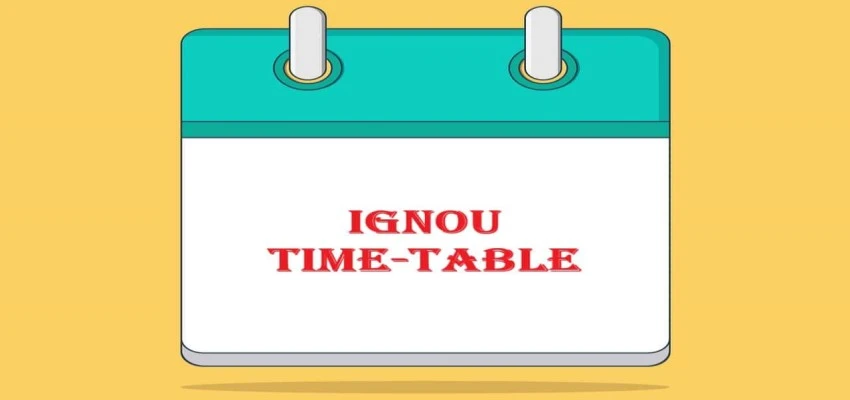 List of IGNOU Exam Time Table December 2023
IGNOU Master Degree Exam Time Table Dec 2023
IGNOU Bachelor Degree Exam Time Table Dec 2023
IGNOU Diploma Exam Time Table Dec 2023
IGNOU Certificate Exam Time Table Dec 2023
| | |
| --- | --- |
| List of IGNOU TEE Time Table | Download Link |
| IGNOU Theory Exam Time Table Dec 2023 | Download Here |
| IGNOU Practical Exam Time June 2023 | Download Here |
Note – IGNOU Final Exam Time Table was last updated on November 20, 2023.
As per the current updates, IGNOU has officially declared its exam time table for all courses for the next TEE session Dec 2023 in the month of July 2023. It is having all the academic courses offered by IGNOU. It will be the final means confirmed exam time table from the university so that candidates can prepare for their upcoming Term End Examination. Time Table is frequently updated by IGNOU and new courses are also added with proper timing and dates.
IGNOU has now made it simple for students to check their exam time table subject wise which makes it easier for students to know the exact time of any examination. IGNOU Time Table is will be available in PDF format so it is now mandatory for students to take a printout of their Exam Time Table December 2023.
More Details of IGNOU Exam Time Table Dec 2023
We have combined and added the Exam Time Table of all courses in one link so candidates have to download Time table sheet from the above link and find your programme using the search box to check the proper date and time of all your courses. We also want to inform our candidates that the university has now announced the final exam time table for TEE Dec 2023 which is now updated and available for download. Meanwhile, the examination form submission is in progress through online mode.
IGNOU Exam Timings for TEE December 2023
After getting numerous comments and questions regarding examination timing for the Morning as well as Noon/Evening shift, we have updated the details on our site. The students should confirm their shift from the date sheet and can check the timing of the shift from below.
Morning Timing: 10:00 AM to 01:00 PM
Afternoon Timing: 02:00 PM to 05:00 PM
Note – The students can also check the actual duration of the examination on each question paper.
How to Get and Make IGNOU Exam Time Table Dec 2023?
Time Table for IGNOU's upcoming Term End Exam December 2023 is out with the announcement from the university so now it's time to prepare a time table for all programme. You can follow the below procedure to make your time table easily.
First, download the IGNOU Official Exam Time Table from a given link
Now you have a PDF File of time-sheet
First prepare a sheet with three columns that include the course name, course date, and course time duration
Write all your course name on the prepared sheet
Find one by one-course name in the downloaded time table sheet by pressing the (CTRL+F) key and check the proper timing of your subject
Write the timings of each course on your prepared time-sheet
Save for future need
The above time table will have Temporary or Final Examinations Time Table so please consider the above time table for your exam preparation. Once all is set, the university will be declared to confirm time table of the examination soon. Until candidates can consider the above time sheet.
You can click on the above link to checkout your exam time table. You have to find every subject's time table from the above exam sheet. You will get your every subject's time table from only one file so you don't need to check all of the sheets.
IGNOU first declared a tentative exam time table for all IGNOU Courses so that candidates can start preparation by tentative dates. And after some time IGNOU University will declare a confirmed examination time table and it will not change at any time.
IGNOU University may change any of the Exam Time Table after getting suggestions and requests from students because of the clashing of two or more examinations on the same day or time. Therefore, students are requested to always download the latest and updated time table from this page to get connected with the correct exam dates so that they can easily prepare for the examination and timely attend their examination.
Subscribe to our FREE e-Newsletter for Daily Updates.