IGNOU Grade Card June 2023 – Checkout and Download IGNOU Examination Grade Card or for all courses from here. If candidates have attended their last session Term End Examination June 2023 then they are now able to check or access their IGNOU Grade Card with our given instructions from this page. Candidates can find here the latest announcement and updates for the declaration of grade card which is available after completion of the Term End Theory Exam.
You May Also Like To Read:
IGNOU Grade Card 2023 Live Updates
IGNOU has now officially announced and updated its grade card status for session June 2023 so candidates are advised to check their grade card on a regular basis if they appeared in the month of June & July 2023 for TEE June examination of IGNOU. IGNOU TEE June 2023 is now finished and the updating of the IGNOU grade card is also started by the university on its scheduled dates.
We will be updating our students on any news and announcement made by the university regarding the grade card of TEE June 2023. If you had applied for the Early Declaration then you may check your updated grade card for the session June 2023 from the same section.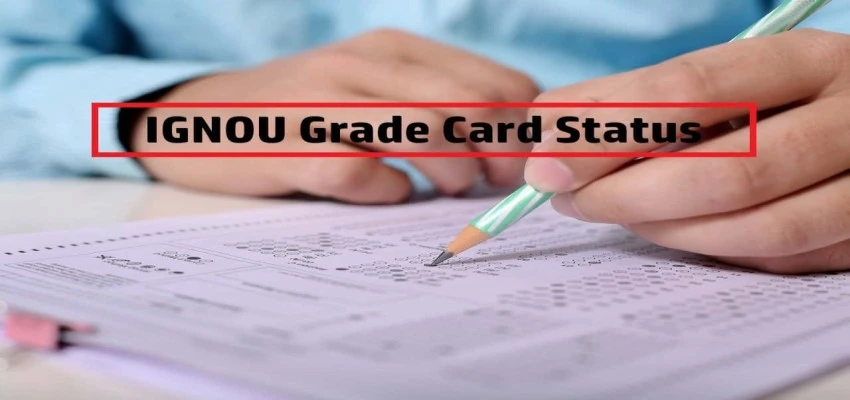 IGNOU Grade Card Release Date 2023
IGNOU Grade Card for the session June 2023 was expected to start updating after 1st August but it was officially started to update from 11th July 2023 as a first update. The grade card will be updated frequently so keep checking your grade card regularly to get the status of all your subjects.
| | |
| --- | --- |
| Events | Dates |
| Official Release of IGNOU Grade Card June 2023 | 11th July 2023 (Tuesday) |
| Date of IGNOU Final Grade Card June 2023 | November 2023 (Expected) |
Candidates will be able to check or download their grade cards for June 2023 as well as the earlier session from the given link. IGNOU Grade Card will be uploaded here to explore and download by all IGNOU students. IGNOU Grade Card Status is updating at regular intervals so keep checking your score-card to get new updates. Choose an appropriate program from the available options and explore your report card.
List of IGNOU Grade Card 2023
IGNOU Grade Card is a performance report which includes theory marks, practical marks, assignment marks, and project marks (if applicable) of all your subject so you can get everything about your program and report in one place. In this way, you can check the result of your hard work and writing skills in your selected course.
You can also find the complete marking of all subjects on the IGNOU Result 2023 page. On the Result page, you will get marks for each subject of your selected program from IGNOU University. Candidates have to click on a suitable link from the following to check and download their grade card of IGNOU.
| | |
| --- | --- |
| Program List | Direct Link |
| IGNOU Grade Card June 2023 for All Programs | |
| IGNOU Grade Card June 2023 for All Programs | |
Update – The IGNOU Grade Card was last updated in the month of November 2023 for the TEE session June 2023 so candidates can now check the updated IGNOU grade card status for their pending subjects including theory, practical, and assignment.
The above BDP Grade Card has included a BA program, B.Com, B.Sc, and Associates program which is included in the Bachelor's Degree program. Candidates will find their status on the same page of the grade card report. If a candidate gets minimum passing marks then they have successfully completed their program from IGNOU and he or she becomes eligible for the award of a degree certificate from the university at the convocation of IGNOU.
IGNOU Grade Card Status 2023
If you are a new student then you might be confused regarding the status of your subject by looking for the first time at IGNOU Grade Card Status. Candidates can check and confirm the status of their subjects whether they are passed in the subject or not. If the status of the particular subject shows as "Completed" means you are fully passed in the Assignment and theory exam but if showing "Not Completed" then it means you are either failed in the theory exam or assignment.
| | |
| --- | --- |
| Components | Meaning |
| Completed | Fully Passed |
| Not completed | Partially or Fully Failed |
How to Download IGNOU Grade Card 2023?
There are only a few steps to be followed to get your Grade Card for any of the programs on your screen. Get started to proceed.
First, we advise clicking on our given grade card link
Now you are at the Online Grade Card section so just enter your 9 or 10 digit enrollment number
Select the suitable option from the drop-down list (Eg. BDP, BA, or CBCS or Other)
Now, choose your program from the dropdown list
and finally, click on the Search button and you are all done
You can see the complete grade card on your screen
You can get a print of it for future reference
Candidates have to follow the above procedure to get their Grade Card or Score Card on screen.  That's it. Your grade card for the selected program will be displayed on the screen with all your subject marks and grades. If your grade card shows incomplete and some of the subjects are missing on the grade card then you just need to wait sometime. IGNOU is updating your grade card with entire subjects and will be updated soon with all subjects and complete marks. Candidates can take a printout of their grade cards for future reference.
Things to Check with IGNOU Grade or Score Card
Grade card showing marks of  Term End Theory Exam, Practical, and Assignments. Grades will be given to all subjects after the calculation of each mark obtained by the students in all three factors. If there is no subject with practical then the grade will be calculated on the basis of a theory exam and submission of assignments. Candidates can calculate their percentage according to their marks and grade. Candidates are advised to verify their grade cards properly and confirm that all subjects are indicated online with correct marks and grades.
IGNOU Grade Card 2023 Weightage Breakup
Many of the students are getting confused with the weightage of IGNOU term end assignments and IGNOU term end theory examination in the IGNOU grade card. It is to clarify to all IGNOU students that the candidates must have completed both of the components in every subject to get their grade card status as a "Completed".
| | |
| --- | --- |
| Compulsory Components | Weightage |
| IGNOU TEE Theory Papers | 70% |
| IGNOU TEE Assignments | 30% |
IGNOU Grading System & Chart 2023
Here are a brief detail and information regarding the IGNOU Grade Card that will help you to find your percentage, qualitative level, and grade points you earned in the particular session term-end examination of IGNOU.
| | | | |
| --- | --- | --- | --- |
| Earned Grade | Points | Percentage | Qualitative level |
| A | 5 | 80% and Above | Excellent |
| B | 4 | 60% to 79.9% | Very Good |
| C | 3 | 50% to 59.9% | Good |
| D | 2 | 40 to 49.9% | Satisfactory |
| E | 1 | Below 40% | Unsatisfactory |
IGNOU Grade Card Calculator 2023
The majority of the candidates rush to the IGNOU percentage calculator to get the exact percentage they obtained in the particular program after the declaration of the final year or semester result and grade card by the university. It is obvious that the calculation of the grade card and the percentage is necessary if you are applying for a further degree or looking for a good job. IGNOU has its own method for IGNOU grade card calculation and all candidates have to follow the same method to calculate their grades and percentage.
Clarification for Incomplete Grade Card
If any students are found to receive incomplete grade cards on their screen then they don't need to worry about it because they will be getting their grade card updated within the next update by the IGNOU head office. Therefore, candidates are advised to keep connected with future updates to find the grades of the remaining subjects.
Why IGNOU Grade Card helps a lot?
IGNOU Grade Card will help students to check their performance in each TEE Examination so they can make the right decision for their further studies after completing the current program from IGNOU. Students can also collect their printed copy of the IGNOU Grade Card from the IGNOU Head Office if needed urgently. If you don't want it urgently then the same will be sent to you by post within an appropriate time duration after the grade card is updated online.
How To Obtain a Duplicate Grade Card from IGNOU?
If any student has lost or misplaced the original grade card given by the university after completion of the program then they have the option to obtain the duplicate grade card from IGNOU by following the simple and short procedure.
The candidate just needs to download the application form for obtaining a duplicate IGNOU grade card and fill in the required details like personal details, academic details, exam details, band draft, and more without any errors or mistakes. After verifying all details of the form, just send the application to the below address.
Fees for IGNOU Duplicate Grade Card
| | |
| --- | --- |
| Fees | Country |
| Rs 200 | Indian Students |
| Rs 400 | SAARC Countries Students |
| $10 | Non-SAARC Students |
The Application must be sent to the below address:
The Registrar
(Student Evaluation Division)
Indira Gandhi National Open University (IGNOU)
Block 12, Maidan Garhi,
New Delhi - 110 068
If you have any queries regarding IGNOU Grade Card for the session June 2023 and December 2022 then don't forget to leave your query by commenting here. We are happy to show you the ways and instructions to get your grade card updated so that you can study without any interruption.
Subscribe to our FREE e-Newsletter for Daily Updates.
FAQs – IGNOU Grade Card 2023
What is IGNOU Grade Card?
It is a performance or score card which is indicating a score of all your work including theory exams, assignments, practical, and project work.
Will IGNOU Update the Grade Card in the Future?
Yes, IGNOU will be updating the grade card regularly for pending subjects.
Do I Need to Apply for Hard Copy of Grade Card?
No. You don't need to apply for a grade card. It will be sent to you by post.
What Do I Do for Incomplete Grade Card?
You must wait for the next grade card update.
Are the Marks or Grade Printed on Grade Card will be Final?
Yes. No changes will be made except you applied for revaluation.
Is IGNOU Grade Card Updated Every Year or Semester?
Yes, It is updated annually or semester wise after appearing in a particular exam.