How to Change Email ID in IGNOU? During your tenure of education at IGNOU, you may get a change in your contact details. But it is mandatory that you update your contact details in the records of IGNOU too so that you do not miss out on any of the notifications coming from the university. Hence, you must be aware of the process to change your personal contact details such as email id in IGNOU online or offline.
Also Read:
Procedure to Change Email ID in IGNOU
When you need to make changes in your personal details in the record of the university like registered email address then there are two ways you can make the change.
If you are aware of your regional center and you do not have trouble visiting the center, then you will have to follow these steps.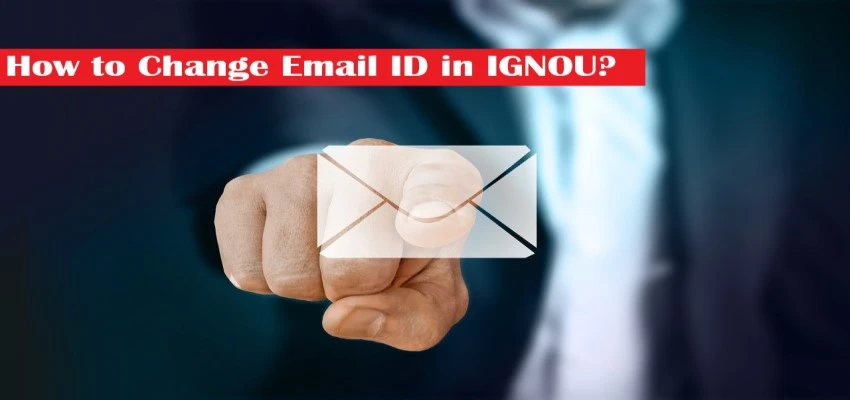 Step – 1 – Visit your designated regional center.
Step – 2 – Collect the form that you need to fill out for the change in email id.
Step – 3 – Submit the form at the regional center for further processing.
Also Check: IGNOU Regional Centre Near Me
Through IGNOU Official Email
If making the changes online is not something that you are able to do, and then you can apply for the changes. For this, you will have to send an email to the designated regional center. Follow these steps to make the changes.
Step – 1 – Log into your profile through www.ignou.ac.in first. Logging into the profile is needed to get the code email id for your designated regional center.
Step – 2 – Once you have received the regional center code, you need to use it in the email to send the email. This has to be done like (Regional Center)@ignou.ac.in. For example, if your regional center is Delhi-3, then you have to send the email to rcdelhi2@ignou.ac.in.
Step – 3 – Type the statement, 'Request to Change my Email id' in the subject section of the email.
Step – 4 – In the body section of the email, you have to mention that you are a student at IGNOU University. Also, you have to mention your enrolment number and programme code.
Step – 5 – Mention that you intend to change your email id that is recorded with the university.
Step – 6 – Next, provide the new email id that you wish to update.
Step – 7 – Send this email with proper salutations and wait for the updates to happen.
Also Read: IGNOU Student Login
After sending the application through offline or online mode, you can check the IGNOU portal by logging into your profile from time to time to notice whether your email id has changed or not. You will find your email id, phone number, and other details under the personal information section in your IGNOU online profile. Log into your IGNOU student profile to check the update of your email id in your profile.
Also Read: IGNOU Study Centres Near Me
Of course, if you are still confused and require help, then you can always visit your nearest regional center or study center to get the right help for the process.
Subscribe to our FREE e-Newsletter for Daily Updates.