Two Courses Together from IGNOU – Many of the students are eager to know that is it legal or possible to do two-degree courses at the same time so here is the answer of it. As per the current rules and regulations of UGC (University Grants Commission), the student can now do two-degree courses at the same time which is applicable for a regular course as well as a distance course. There are many UGC notifications and updates now available on this topic with official dates which you can read on this page.
As per the UGC Circular dated 30th September 2022, the students can now pursue two full-time courses at the same time. These guidelines will be applicable to those students who either want to pursue two regular degree courses together or two distance degree courses together. Therefore, It is now valid to do two-degree courses together in the same mode of study like Online, Distance, or Regular.
Latest Update – As per the most recent clarification from UGC on 9th September 2022, the degree completed through distance as well as the online mode will be treated equivalent to the regular degrees so now no one can create differentiations between distance and regular degrees.
As per the UGC Notification dated 8th June 2020, the candidates were able to pursue two-degree courses at the same time but one course must be regular and one course must be distance. In short, the candidates can now do two-degree courses together with the same or different institutions but the type of degree (distance or regular) must be different.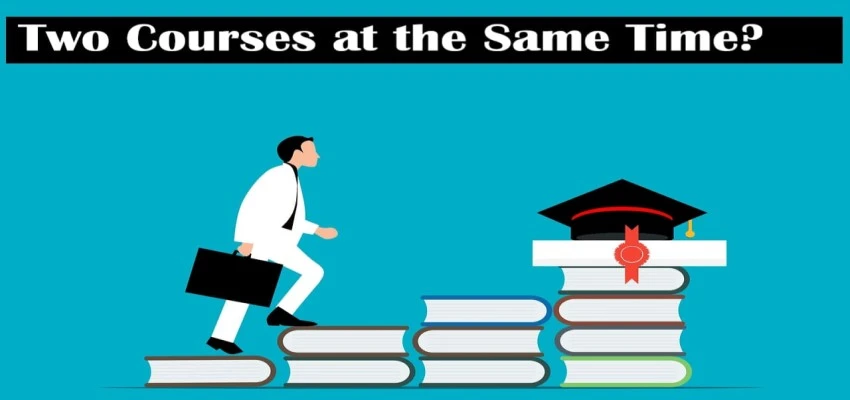 UGC Rules are Applicable for IGNOU University too – Earlier before the new announcement from UGC, simultaneously pursuing two academic courses either from IGNOU University was not permitted but one from IGNOU and the other from Regular University (regular or face-to-face mode) was permitted as per revised rules including Certificate Programmes of 6 months duration. After the most recent notification on 30th September 2022, IGNOU students can now also do two regular courses as well as two distance courses at the same time.
Many of the students are aware that the previous rules of UGC abandoned students from doing two-degree courses at the same time and according to the previous rule of UGC If a student is found to be completed two distance courses or two regular courses in the same academic year or time then one of them will be marked as invalid. Therefore, doing more than one course at a time resulted in difficulties when applying for further studies or jobs. Earlier, IGNOU also advised students that he/she will do only one course at a time and then apply for another course after the declaration of results. Now, everything is changed now and students should follow the latest notification of UGC.
Also Check:
The current rule of simultaneous registration is applied for certificate courses as well which you can understand here with more details. Students who are already enrolled in a program of one-year duration or longer can also simultaneously register themselves for any certificate course of 6 months duration. Candidates have to note that if any clash of dates of counseling or examination time table between the two courses taken, IGNOU will be not responsible to make an adjustment or shifting the dates of it.
Also Check:
But, Doing two courses at the same time is somehow affects performance and marks in both of the programmes so it's a better way to take admission in one course at a time to better focus on that programme to achieve good marks and grades.
Subscribe to our FREE e-Newsletter for Daily Updates.